Learn about the backgrounds of training while improving your technique and performance skills. Providing you with the skills and knowledge to train safely for a long and healthy career.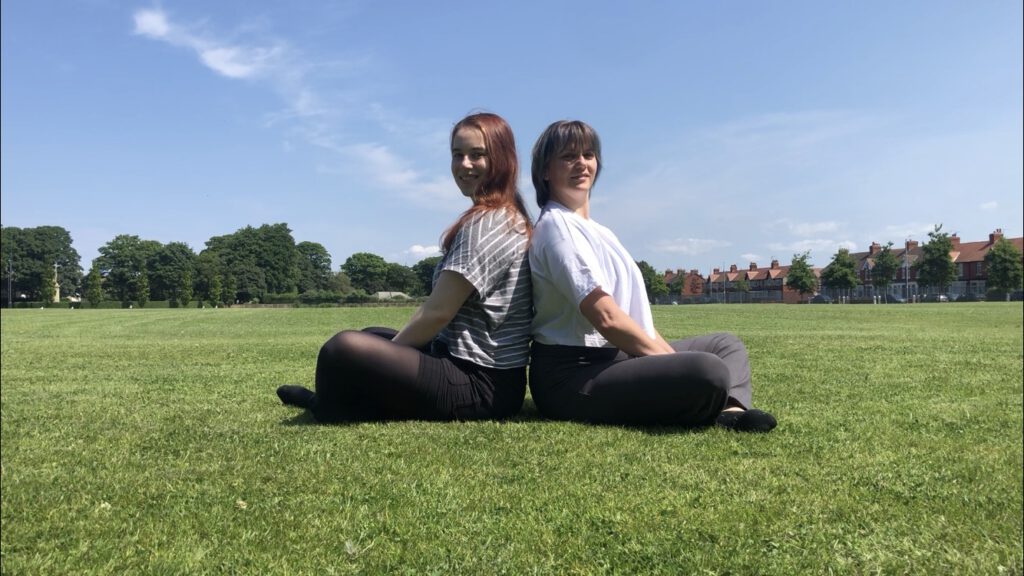 Who are we? We, Alissa Nehrlich and Corinne Tams, are Dance Artists based in the North West. Dance Science and Health is the focus of Nehrlich Tams Dance Company through which we aim to support dancers by providing scientifically proven training and education. We believe that dance science should be a vital part of any dancers training to ensure a long and healthy career. Find out more about Alissa here and about Corinne here.
For who? Dancers aged 16 or older who want to expand their knowledge.
We welcome all professional dancers including teachers, choreographers and other professionals. However, please note that the main intensive sessions will be focused on dance training.
Level of classes: Physical classes will be at an intermediate/advanced level you should therefore have a minimum of one year experience in contemporary and/or ballet and be used to participating in a full week of training.
When? 29 August -3 September 2022 from 10 am – 5 pm daily
Where? Media Factory, University of Central Lancashire, Kirkham Street, PR1 1JN, Preston, England
How much? Full week £190, half week (either morning or afternoon sessions) £100, individual session (only some sessions available) £15-£20
How will the day run? The morning will start with a Progressing Ballet Technique/Progressing Contemporary Technique or conditioning session followed by a ballet class and contemporary class.
After lunch, there will be a mixture of theoretical and practical sessions covering anatomy, injury prevention, strength training, safe stretching, attention & focus, nutrition, performance psychology (guest teacher – Lucie Clemens) and warm-up/cool-down theory. Detailed session information can be found here.
Full timetable (subject to change):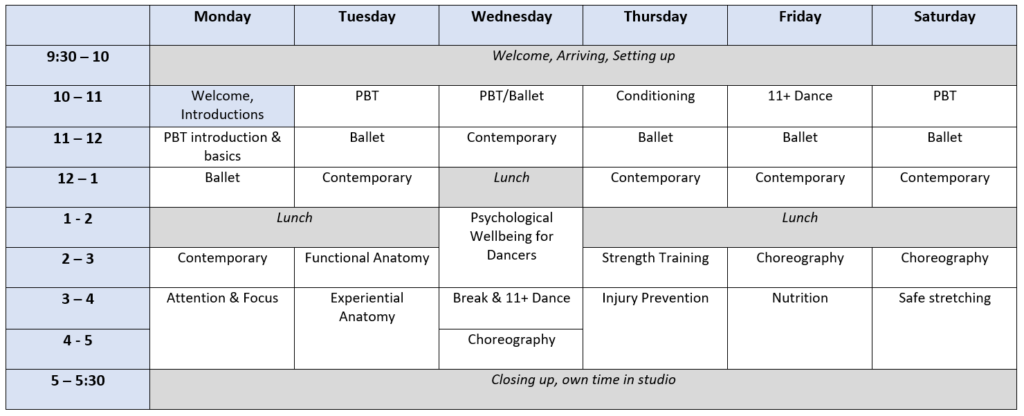 Accessibility: The venue has 2 lifts as well as accessible toilets. Both teachers are experienced in inclusive dance and will be able to support you in adapting sessions and translating movement where needed. Please tell us about your access requirements within the order form so that we can best support you. Please get in touch via email (a.nehrlichdance@outlook.com) if you have any further questions.
Accommodation: We are able to accommodate a limited number of participants at Moore Lane Halls in Preston. You will be staying with other intensive participants in a 6 bed self-catered flat. Please select the 'Accommodation' add on option when booking your ticket. You will then receive detailed booking and payment details via email. If you would like to stay with another person please send us an email with your names and we will try to accommodate this. 
Refund policy:
up to 30 days before start date: full refund
up to 15 days before start date: 65% of fees will be refunded
less than 15 days before start date: 45% of fees will be refunded
Covid-19: Of course, planning events is currently difficult as we cannot predict case numbers and restrictions. Should restrictions within England prevent us from going ahead with the Intensive you will receive a full refund of intensive fees. Please consider any refund policies for travel or accommodation you may be booking as we will not be able to refund you for this! You can read our full Covid-19 health and safety guidelines here.